---
A Design Bronze Award Winner
Sit Furniture Design Award Winner
DesignTo 2021 Work/Life Finalist
---
Let's be honest, the pandemic has been a difficult downer. Stuck at home, so many unknowns, living/ working all in the same space.

If ever there was a time for good fun design , it's now.
Elegant dining table by night. Stylish all the time in hot pink, neon yellow, or teal blue. The HQ accommodates multi workers with a removal separator, it has grooves to fit supplies, a storage system, space for all those pesky cords and it's coated in a space-age magnetic paint so notes never blow away.

Then when work is done (hooray), the HQ sits 6 people, maybe 8 depending on your distancing strategy. Compact enough for condos, easy to assemble, and affordable for all. Great colors, awesome features, and an understanding of the modern world, where work and life are beautifully blurred as one. This table does not require any screws for assembly - all components are interlocked.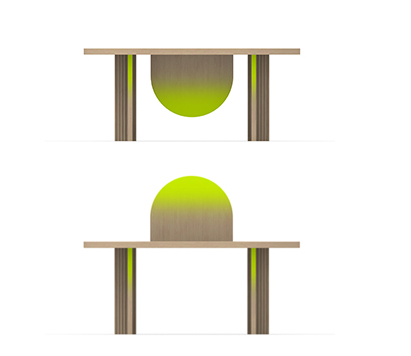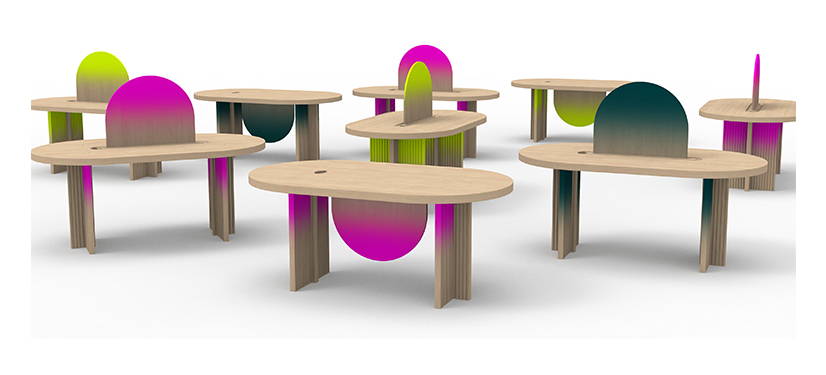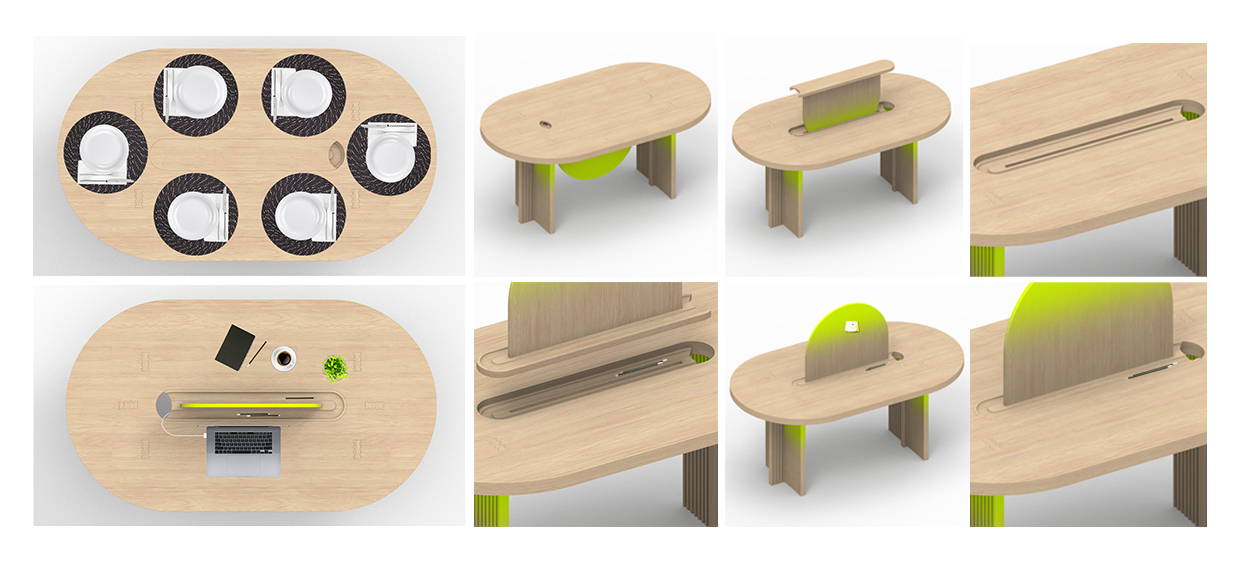 Birch Plywood and Magnetic Paint

---
An homage to our favourite fun-time pharmaceuticals. Get a daily dose of our favourite prescription scented candles from our Take a Pill collection. Ambience is just what the doctor ordered. These candles are gorgeous in their beauty and size. Take two and call Noda in the morning!

Available in a variety of colour combinations these accents will add a welcoming boutique aroma to any space without sacrificing your playful style. Hand crafted, and mouth blown glass accent



Large: Ø 5"x 8.5"H (Ø13 x 22 cm)
Small: Ø 3"x 5"H (Ø 8 x 13.5 cm)

---
Part of the Take a Pill Collection, the #Hashtrays add a touch of youthful playfulness to your adult guilty pleasures. With a secret compartment tray below, keep your stash safe from prying eyes. Made from hand casted Jesmonite and finished with the collections signature pop of neon and acrylic, these #Hashtrays will add a little colour to any space.
Doubles up as a trinket trays
Made from hand casted Jesmonite and finished with pop of colour detailing
Store your guilty pleasures in the tray below
Shhh… it's a secret
Perfect addition to any interior surface setting
Beautiful combination of materials, roughness of the concrete and smoothness of the acrylic and glass


Concrete, Acrylic and Glass

12" W x 8" D x 5"H (30 cm W x 20 cm D x 13 cm H)

---
"Sound occurs when the air in the lung passes first through the trachea and then through the voice lips in the larynx. Some aesthetic judgments can be made about the sound, such as thin or thick, beautiful or ugly. Aesthetics envelops the sound as well as the silence. Wabi-sabi's silence also comes into play here; simple, natural, and spontaneous."

Babylon is designed as a reflection of these elements, which can be regarded as a design language. In a functional context, Babylon does not waste the "breath" to snuff out the candle, which is considered a meditative introversion, and does not require an external extinguishing apparatus therefore completes this silence with its plain form as a candle holder set.

Available as a set of three or you can stack as many as you want your candleholder to be. The sky is the limit.......

Large: Ø5.5" x 2"H (Ø14 x 5 cm)
Medium: Ø4.25" x 2"H (Ø11 x 5cm)
Small: Ø3.5" x 2H" (Ø9cm x 5cm)

---
Well hello there Gorgeous How U Doin'?

OP103 drawing inspiration from optical illusion this outdoor dining table is not your everyday outdoor table. In addition to its vibrancy you will be happy to know that we use leftover off cuts from other jobs to upcycle what would have been trash and we are definitely happy with the scraps



---
We put leftovers to good use

We use leftover Terrazzo from our project and these Eye Candy collection coffee tables and side tables are just sweet enough to make them fun and less waste.



Terrazzo and Lacquered Wood

---
A sensual play on your typical well crafted home accessory, watch the lips move from different angles. Paying homage to the Noda Designs take on S&M and bondage with leather and rope, the trays are the ultimate playful storage.
Trippy and fun, freak out your guests with the lenticular glass!

* Artwork of Carlos Peñalver
* Limited Edition



Leather, Lenticular, Acrylic

20"W x 20"D x 3"H (50 W x 50 D x 8 H cm)

---