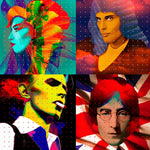 Artist Profile - Zoobs Ansari
About the Artist
Our first artists feature for the NODA art forum is Zoobs (Zubair) Ansari.  A British artist of Indian and Pakistani heritage, he draws on personal experience to explore contemporary society's preoccupation with physical perfection, popular culture and celebrity. Zoobs acknowledges the seductive allure of beauty, fame and wealth, while recognizing the troubling psychological, emotional and physical consequences of blindly pursuing these goals.  Focussing mainly on the human face, Zoobs works in a variety of media including photography, audio, video, sound, sculpture and performance.  Following a degree from Kingston University and a position with Shiseido in Tokyo then Paris as Art Director, Zoobs left his career in commercial photography to focus on his own art reflecting a wide range of influences from art, illustration, fashion, film and music. Having just concluded the Insanity Fair exhibition in London in April 2020 Zoobs has worked with Free The Wild, a charitable organization aiming to release captive wild animals into sanctuaries or better equipped zoos. He has donated three hand-picked pieces from this exhibition featuring Cher - each piece coming with a hand-written note from Cher herself. 
Noda Designs is excited to announce that our flagship store in Toronto, Canada will have the one of a kind artist proofs from Zoobs' Word Search Series for sale. These iconic pieces feature dead heroes of British pop music - Freddie Mercury, John Lennon, David Bowie and Amy Winehouse. The artist has digitally manipulated the photographic portraits to create 'emblematic images in psychic colour' printed on glass and overlaid with words from the lyrics of their hit songs. 
Ashes to Ashes - David Bowie 54" x 54" 
Black to Black - Amy Winehouse 54" x 54"
Bohemian Rhapsody - Freddie Mercury 54" x 54"
Imagine - John Lennon 54" x 54"
The artist works between New York and LA but currently calls London home.