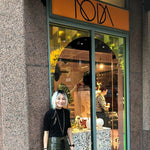 A FEW OF OUR FAVOURITE THINGS
Nora longs for items that are rich in detail and personality. In her world, everyday objects should be interesting and beautiful. It's a high bar, but the items she finds measure up.
Bold Faced Goods
These are her favorite tongue and cheek reusable dishcloths that make cleaning not so terrible. Uniquely styles with fun sayings like, "clean it real good" and "make it moist", appeal to Nora's sarcastic side. Plus these cloths are 100% natural and washable, which is no longer a nice to have but a must-have.
Blamo Toys
Every designer has a soft spot for toys, Blamo is well-known and loved for their collectible monsters, each with their own backstory. Made from natural materials, Nora's favorites are Bandit who steals away worries and sorrow, and then there's Repo Monkey who focuses on the unwanted.
From Ceren:
For Ceren fun is essential. Not taking life so seriously comes out in her designs and in her favorite things.
Santorus Eye Mask
Soft, velvet with fringe, this isn't your ordinary airline eye mask. The Santorus, is a beloved travel accessory for Ceren, adding drama to her dreams. Worn on the red-eye or these days on display, this sultry mask is anything but banal.
Oily Spikes Stool
Stools are stools are stools. Wrong! Ceren has had her eye on this beauty for a while, falling hard for its shimmery magical iridescence. A statement piece for sure!
Check it out!
Candle Hand
Julia's style is iconic and outgoing. The same goes for her fav goodies, like this bright pink F*CK candle. As far as Julia is concerned, everyone should add one to their home. Why not? It's so outrageous and hilarious. It's the pure definition of POP! And for Julia, it's her go-to gift and a not so passive-aggressive way to tell a friend just how she's feeling.
Haas Monster Incense Burner
Adding in hints of audacious to her decor is one of the ways Julia plays with her space. The Monster Incense Burner takes the concept of the ordinary incense stand and adds a whole theatrical element, as the incense smoke blows through the horns. For Julia, everything from this company is incredible. A must-see!
As you can see at Noda, we each have our own style and it comes through in the objects we're crushing on. One piece we all agree on is the Babylon Jesmonite Candleholder designed by our own Ceren. They look like concrete but are amazingly light and ecofriendly. They can be stacked or used alone.
So what's on your wish list?