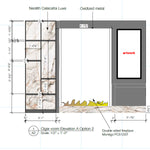 Touring a $3,500,000 Toronto Home Renovation Design Plan
Hi, my name is Nora Voon from Noda Designs. Today we're going to talk about a bungalow project. This home was built 30 years ago, and my client would love to gut it all out because of its very traditional style. Additionally, the ceilings in this home are really low, so we decided that we're going to rip open the ceiling to increase the height and make it a lot grander. We're also installing many full-height windows to let light in and really transform this space into a contemporary home. Let's take a walk so you can see each area and what we're going to do.
So here we have the living space. This is the living room; we're going to break down this wall and open up the ceiling. We discovered that we've got about 20 feet of ceiling height inside this space, so once this is all open, we're going to expose the pitched roof. We're going to add some supporting beams going across to give it a contemporary look. We're also going to blast open this exterior wall to open up the space and have full-height windows to let in all the natural light. So once this wall is blasted open, we'll have an open concept into the dining space and the kitchen space. Now, this area, this whole wall here, is all coming down. So what we're going to do is build a freestanding wall here that is also a closet, and in a way, can block out the bad Feng Shui between the entrance and the back door. My clients are Asians, and Feng Shui is very important to them. So throughout the space planning of this project, we've had to keep in mind certain aspects of Feng Shui placements of the living space, openings, windows, and doorways. Now let's go into the kitchen area so I can tell you what we're doing there.
We're now in the kitchen area here; it has lots of natural light. We're going to replace all the big windows and the patio door going into the patio. We're going to blast out this wall to make it one big open space into the dining room. Over here, we're going to extend the wall and add a pantry in the back. On this wall, we're going to have a very beautiful special unit made that will not look like your typical millwork. It's more going to look like a piece of furniture. It will have a wine fridge, ovens and a display area where you will display all your beautiful kitchen items. Over here, we've got the stove, the fridge, and the prep area. Right here is where that big island will be, accompanied by a nice seating area on that side. Just behind the pantry, we're going to have an indoor herb solarium. It will be a wall of herbs with lots of sunlight coming through. It's going to look great, and I cannot wait.
So we are now in the master bedroom. We're going to have two walk-in closets, an ensuite, and a big open space for the bedroom. We're going to keep the ceiling height in the bedroom areas because we're adding another floor above the bedrooms. We'll have two extra bedrooms and a bathroom upstairs in the mezzanine area. So we have the ensuite here; we're going to blast this wall down and make this a walkway. We'll have the vanity, shower, and toilet. In the vestibule over there, we're going to have a beautiful organic shape bathtub. On the side here, we're going to have the walk-in closet for her, and on the other side of the room, we're going to have the walk-in closet for him. This whole space is the master bedroom area with the walk-out into the garden. We're going to replace these patio doors and refinish this really bad ceiling with just a new fresh coat of plaster to remove the popcorn detailing, which is very dated.
So now we are in the guest room. We will have an ensuite on that side, a bed here, and a closet here. We're going to move this wall down slightly to create some extra room in the office area. It's going to be an office space, but we're adding an extra bathroom in that room so every single bedroom on this floor will have its own ensuite, as well as the office. We'll have a beautiful desk and storage area in the office. We also wanted to have the flexibility that in the future, if they wanted to turn it back into a bedroom, they could do so. The office is quite interesting, so we can't wait to reveal it to you guys, along with the extra bathroom we'll be adding as well.
 So now we are in the basement area, where most of the entertainment is happening - it's going to have many great features. Behind me on this end, there's a little room there in the back; that's where the wine cellar will be. Along here will have all the wine displays as well, and a small hallway with glass doors. Right behind there, we're going to have a little wine tasting room for a smaller group of people getting together and having a nice conversation and drinking wine. The wine tasting room will have a wall but sort of a half wall coming down. Right below the half wall will be a see-through space where we'll have a double-sided fireplace, so if you're sitting in the wine tasting room, you can kind of have a view into the whole entertainment area. Over here we're going to have a beautiful bar with a nice wine fridge as well and lots of display. Then around here, we're going to have all the entertainment with a lounger so people can watch tv, hang out and generally have fun.
So now we are in the golf simulation room. Between that beam and this beam is where the golf simulation will happen. What we need to do is add upholstery on the ceiling and the wall so that when you're swinging your golf club, you're not scratching the ceiling or damaging the walls. Behind the golf simulation is a storage area where we have all the boilers and extra storage space. As we go into the hallway down this way, we're going to do a lot of wood panelling on both sides of the walls, and we'll be concealing the doorways. As we're heading into the spa, the whole idea is to make the hallway coming down from upstairs feel cozier and give it a little bit more warmth by using wood panelling.
 So here we have the spa behind me. We have a steam room, a sauna, a bathroom, and also a treatment room that can have two people at the same time. The whole idea of the spa is to make it sort of like an oasis. When you're entertaining and coming down to the basement, you won't know there's a spa behind you because all the hallway doors are concealed, and the walls have the wood panelling that I mentioned earlier. Within the space inside the spa will be a lot of wood on wood on wood. I want to give this room a Scandinavian look: very minimalist, very zen, and an oasis.
Now we are in the gym area. We have two sections within the gym. We're going to have an area where there will be boxing, so you have all the boxing equipment, the punching bag, and speed bags. Then on the other side of the gym, we're going to have a lot of machines, some free weight lifting, and a yoga space. The entire gym will be half glass walls and rubber flooring just to make it nice, clean, and light.
We are now in the lounge area, and we've already got our pool table. I'm kidding; this is going somewhere else. We've got the patio door that goes straight out into the pool area in the backyard, so it's perfect for entertainment. In this space, we've got a nice seating area here and an eating area there. We'll have a small kitchenette so that you don't have to run up and down. We've got another sort of seating area here, and again this whole space is also concealed from the other side of the basement. This entire area is more for personal use, whereas the other area I mentioned earlier is for entertainment, for guests to come and hang out with the family. This is more like a private area so they can have their own personal space. 
That's a wrap! Thank you so much for joining us today on the house tour. We will be updating you with our progress on the renovation in our next video, and thank you for joining. See you next time.