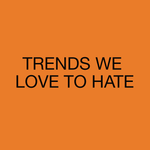 So we are almost done with the shortest month of the year but my word it felt like a long one for us Torontonians (Covid fatigue am I right?!). That said, we are now well into 2021 and we here at Noda felt it was the right time to discuss those dreaded design trends we love to hate so hopefully we can see them die this year. Those of you who know us, know that our Principal Designer is no shrinking violet when it comes to colour – Nora loves colour, beautiful lines and fun details. So the following list is not to suggest what you're doing is wrong if you find these items in your home or office – but rather we are hoping to bring you to the light, the neon pink Noda light if you will.
1) White Marble – we realized this tends to be an easy choice to make in kitchens and bathrooms when you want to keep things looking clean and minimal but ask yourself, how many homes have you seen with this exact same aesthetic. We are empowering you to be BOLD and instead try these links for your colour therapy
  2) Pillow Chopping – you know when you see home décor shows where they do the final staging and karate chop the cushions – this is so over! Not every cushion needs to feel your wrath! Instead try overstuffing your pillows for a plush luxurious look. When we can finally have guests over to hang on your couch again, trust us, they will love how they feel.
3) Barn doors – let's just say this, unless you're in a barn, you don't need a barn door. End of story.
4) Art collections accumulated with ears not eyes – you should love the art in your home, not because some dunce with a minor amount of talent and a face mask can scribble a cartoon character. You should feel your art, love your art, dream about your art and sometimes even forget who the artist is because you care more about how it looks. Yes art is an investment, but make it an investment in yourself not popular culture.
5) Accent walls – this may be controversial because we do love to make an impact, but our motto is if you're going to do it, do it big! So you want black moody wallpaper in your bedroom – why not do every wall? Keep your furniture clean & simple and make the impact with your walls. Let's just say we all make mistakes but it's 2021, let's turn a corner and have some fun with design. Believe us, we all need it! 
xxx